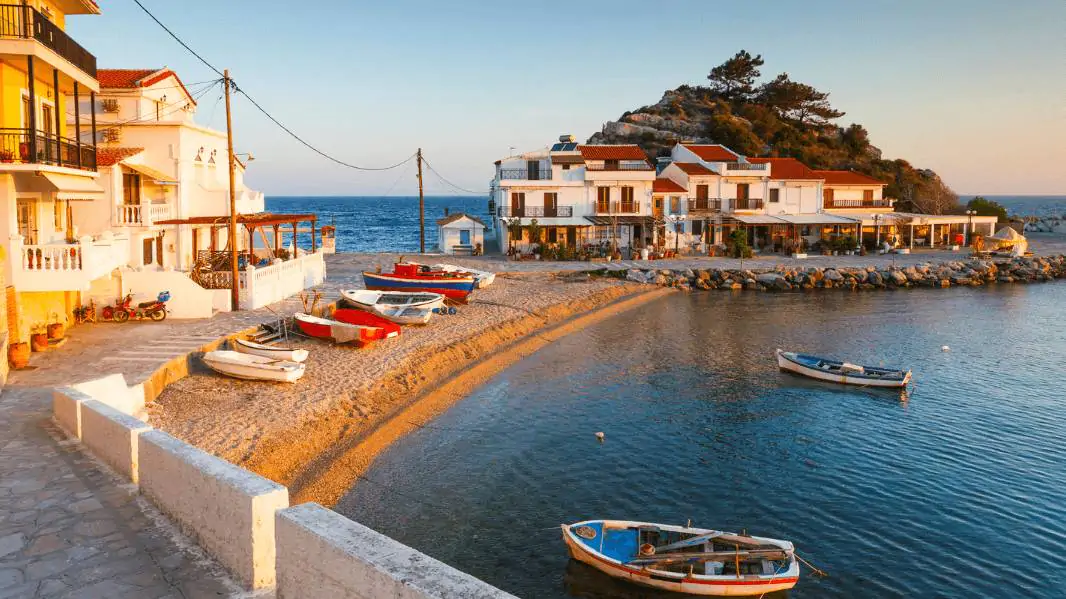 Guide To The 10 Greek Islands To Visit From Turkey
In the middle of the Aegean Sea, you find many islands very close to Turkey, but whose flag is blue and white, rather than red and white. These are, of course, the Greek islands, especially the 12 that form the Dodecanese archipelago. Almost all of these beautiful islands are accessible from Turkey by ferry, at 20 min for the closest, and 3h for the farthest.
You should know that these islands are accessible without any steps other than the purchase of a ticket for all holders of a Schengen visa or a European passport. For holders of a Turkish passport or a non-Schengen passport, a visa is necessary, even if you go there for only one day (except for the island of Leros).
Crystal clear turquoise water, or for adventurous sports activities such as mountaineering, splendid limestone paths by the sea, the paradisiacal Greek islands are the ideal destination to fulfill your desires.
Chios Island – Sakız Adası
from Cesme
Traveling from Turkey to the Greek island of Chios can be very easy by taking a ferry from Izmir, Cesme. Chios, the fifth largest island in the Aegean Sea, is a famous destination among tourists. They can find incredible beaches to relax and unwind, such as Megas Limnionas, Agia Fotini and Karfas, but also historical sites, monuments and airplanes to see. The island is best enjoyed in the spring when the sea temperature and the weather are perfect.
Rhodes
from Marmaris or Fethiye
Close to the Bozburun peninsula on the Turkish coast, Rhodes is easily accessible by ferry. Like any other Greek island, Rhodes is known for its most beautiful and splendid beaches, such as Anthony Elli beach, Quinn Bay and Ladiko beach with turquoise water and perfect warm weather. It is also home to various historical places visited by tourists, such as the Palace of the Grand Masters and many others.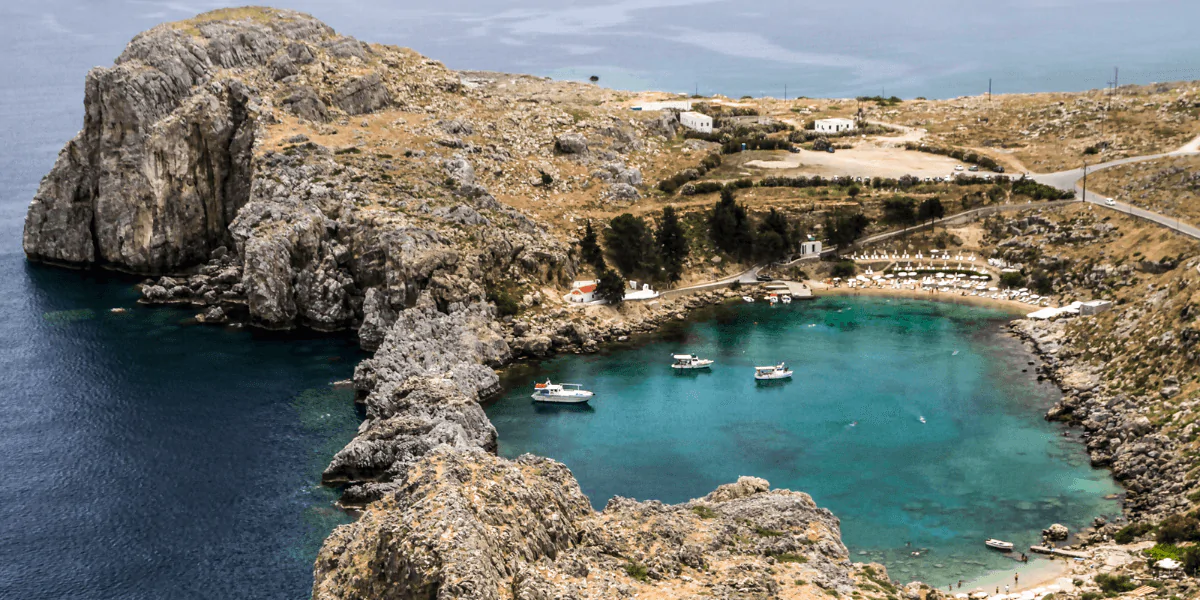 Kos Island
from Bodrum
The island of Kos, named Istankoy in Turkish, is located opposite the Bodrum peninsula in Turkey. It is possible to jump on a ferry from Bodrum to land in Kos the fastest, on average, 20 to 45 minutes, and the cheapest way. Kos is a tourist island, mainly visited in summer, offering many beautiful beaches to relax and enjoy the best vacation. Lambi Mylos and Psalidi are the best rated beaches to visit. It is also recommended to visit the old towns of Kos Town Castle and Asklepion, a major tourist attraction due to their historical sites.
Samos Island
from Seferihisar
Samos, or Sesame in Turkish, is a Greek island accessible by air transport from Turkey, via a 4-hour flight from Istanbul to Athens or a 90-minute ferry cruise from Aydın/Kusadasi. Samos is a charming and impressive island, where one can enjoy the good weather mainly from June to September, relax on its beautiful beaches, including Potokaki, Megalo Seitani, Psili Ammos and Heraion, and dine in its popular restaurants in the evening. The island of Samos is famous for its natural beauty, clear atmosphere and sea, but also for its monuments, including Pythagorion, the Cave of Pythagoras and the Cave of the Virgin Mary.
Patmos
from Bodrum
Patmos, a small iconic island, is located in the Dodecanese region and can be reached by taking a ferry from Bodrum to the island of Kos and then another 2.5 sea cruise from Kos to Patmos. It is recommended to explore the island in 2 to 3 days, but it can also be done in a full day. People walk the streets of Patmos, visit the historical site of the Monastery of St. John, the Cave of the Apocalypse and buy Greek souvenirs, Christian artifacts and other unique items.
Kalymonos
from Bodrum
Kalymnos is a large and intriguing Greek island, easily accessible from Bodrum in 25 minutes by hydrofoil. There are beautiful beaches to see in Kalymnos, such as Massouri, Linaria and Gefira. The island is also very suitable for adventure activities like hiking. It is ideal for climbing the sedimentary rocks built on the sea shore around the village of Massouri and walking amazing paths that will lead to the town centers, which are 5 to 20 minutes away.
Symi
from Bodrum
The island of Symi is located between the Aegean and the Mediterranean Sea. Easily accessible by speedboat from Bodrum, the island offers a tranquil getaway with many attractions to discover. The island of Symi has a pleasant temperature and is ideal for swimming, thanks to its beautiful beaches of Agios Nikolaos and Nanou with crystal clear waters. It is suggested to visit the historical monastery of the Archangel Michael Panormitis in the small village of Panormitis before heading to Gialos, the liveliest village of Symi, and enjoy its breathtaking view.
Leros
from Bodrum
The small island of Leros is a must-see, less familiar than the other Greek islands, and can be visited in a full day by car or on foot, through a one-and-a-half-hour boat ride from Bodrum. This peaceful and welcoming island is very colorful and home to traditional houses, small coves and incredible people. You can visit its main port, Lakki, the blue sea of Agia Marina and Panteli, a fishing and boating destination. The island hosts many entertainment activities and festivals in summer, making it a major attraction for tourists.
Kastellorizo
from Kas
Kastellorizo, or Megisti in Greek, is the smallest island in Greece, visited by Kaş-Meis boats departing from the Kaş district every day. The boat ride from Kaş to Meis takes only 20 minutes.
People enjoy strolling the streets of the island, sailing along the Greek coast, discovering activities such as the blue cave located in Meis and accessible by motorboats, and enjoying the island's popular Frappe and Greek dessert.
Lesbos
from Ayvalik
Lesbos is a popular destination, accessible by a one-and-a-half-hour sea cruise from the port of Ayvalık. Known for its delicious cuisine, olive oil museum and soap workshops, Lesbos offers many exciting activities and festivals, such as the Eressos International Women's Festival and the Ouzo Festival. People also relax on the beautiful beaches of Lesbos, Molivos City Beach, Neon Kidonion Beach and Tsamakia, which are popular for their beautiful clear turquoise water.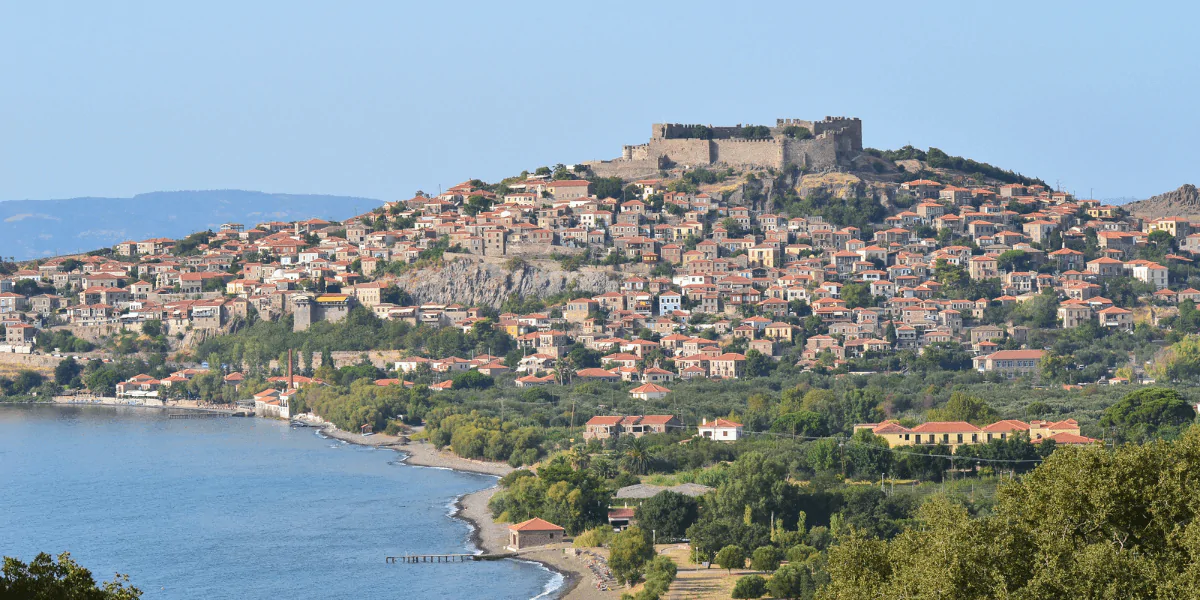 Explore The Turkish and Greek Island
Why not rent a Turkish gulet to see the nearby Greek islands and shoreline on your upcoming trip to Turkey? The finest way to see these cluster of islands where the Mediterranean and Aegean meet is on a Turkish gulet. Even better if you have the option to hire your own boat so you can take your time and discover the islands. You are free to select your port of departure and arrival when creating your unique charter itinerary. Fortunately, there are a number of ports from which you may visit the Greek islands. You can select a port based on your interests and travel schedule.
Chartering a yacht offers an excellent alternative to overland travel for seeing these stunning coasts and islands, as well as a unique sense of independence and solitude when on board. Your unique experience of Turkey and Greece, with varied landscapes, friendly hospitality, vibrant cities, magnificent temperature, and rich history are enhanced by the sounds of the sea and the open air. A wonderful blend of adventure, introspection, and relaxation may be found by experiencing different cultures while being close to nature.