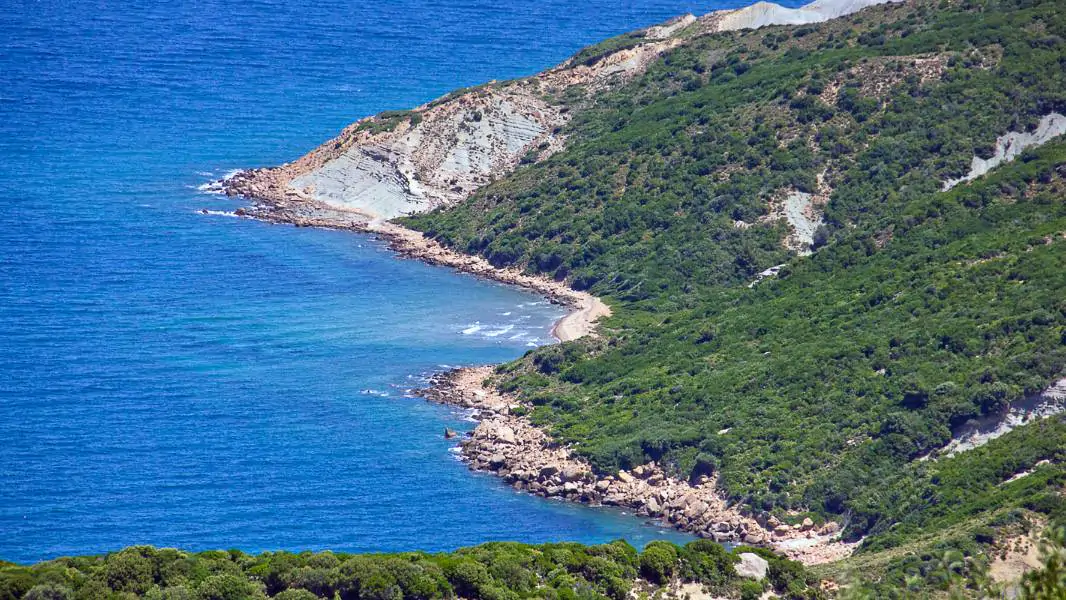 Gökçeada Island: The Perfect Weekend Guide
We all have a different idea of the perfect weekend. The perfect weekend for all of us is on an island, preferably sparsely populated, with few shops, few tourists, not too much noise, your friends and/or family, a good big book, flip-flops, a calm and clean sea, a sandy beach (very important) and lots of nature.
So, if you want a perfect weekend, you will surely like the rest of this article which will be a mini guide to a weekend in Gökçeada, an ancient Greek island, also called Imroz. Close to Canakkale, the island of Gökçeada is 315 km from Istanbul. Not so far by car or bus to go there for a weekend.
Some Information:
Gökçeada is the largest island of Turkey. Its Greek name Imroz was changed in 1970 to Gökçeada. Its number of inhabitants is about 9000, mainly Turks.
The island lives from agriculture, mainly its olive and grape production, livestock, fishing and tourism. There are 10 Greek villages and 11 Orthodox churches on the island.
When To Go?
Gökçeada island is pleasant when it is sunny, and less pleasant when tourists (local or international) have invaded the beaches. we therefore advise you to go there from the 2nd week of May to the first week of October. However, be careful in July and August, they can be unpleasant for you if you have a phobia of the crowd of holidaymakers.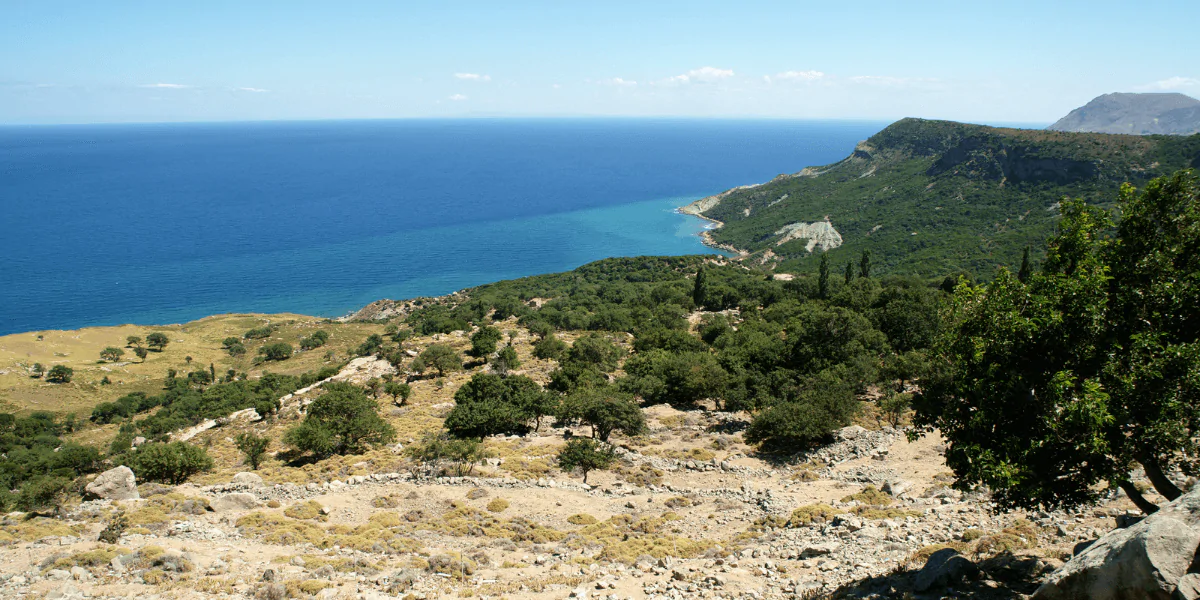 Temperatures In Gökçeada
Over the year, the average temperature varies a lot. It is around 21 °C.
Rainfall In Gökçeada
There is usually 123 mm of maximum rainfall each year in Gökçeada.
Seasonal Norms In Turkey
Here are the seasonal normals in Turkey for the month of September and October. Our opinion is based on the combination of these historical data of the seasonal normals that a good note indicates a pleasant temperature and little rain.
How To Get There?
Gökçеada, located in the north-west of Turkey and in the Marmara region, is the island district of Çanakkalе province.
From Istanbul, you can rent a car or take the bus, especially via the coach companies to Kabatepe. Then, from Kabatepe, you will reach the island by boat. The cruise on the ferry takes about 2 hours and is very pleasant.
From Izmir, without a car: go to Eceabat by bus and then take a minibus that will take you to Kabatepe. Then take the ferry as well. By car, go to Canakkale, then take a 15 min ferry to Eceabat. Drive to Kabatepe.
Gökçeada Boat Tours
The best way to discover Gokceada's hidden beauties is by renting a boat. With Tekneveyat, you can find the perfect boat with ease. For families or bigger parties who wish to have lots of space for entertainment, comfort, and luxury, boats are perfect. To wow your friends and enjoy a memorable bachelor party in Gokceada, you may even rent a boat.
According to the weather, the cruises, which last between 12 and 18 hours, visit the bays of Tepeköyalt, Waterfall, Pirinçburnu, Marmaros, Underwater National Park, Blue Bay, Caves, Yelkenkaya, Kaşkaval (cheese cliffs), Güzelcekoy, Batklar, and Cape Kefalos.
You can decide where to stop for swimming and relaxation in some bays based on the weather. The majority of the destinations that tourists visit is inaccessible to land vehicles. A fishing rod is available for anyone who want to take a break and go fishing. The tours also cover the Cheese Cliffs, one of the world's most significant naturally occurring wonders.
Best deals and detailed information for you to experience this tour in Gökçeada are only at TekneveYat…
Where To Stay and How Long To Stay?
As we mentioned in the introduction, the island is very quiet. It is little inhabited and little commercialized because it is protected (and so much the better!). So you will hardly find any nightclubs or trendy bars like Kuruçesme. There is a very small marina and a very small souvenir market, a few wine bars, and a few fish restaurants (raki-balik), and that's it.
To the question how long should I stay there, we would say that it will depend on how long you can stand the absolute quiet. If you are a couple or a small group of friends (and therefore have company), 4/5 days can allow you to see everything. For solitary people, a weekend will be enough, unless you are the type who likes solitude.
Note: There are few hotels by the sea because the coasts are protected. Therefore, choose a hotel in the mountains. Sunsets at the rendezvous!
For couples, a nice romantic hotel will surely please you. The most recommended on the island are The Castle Hotel and the Anemos Hotel.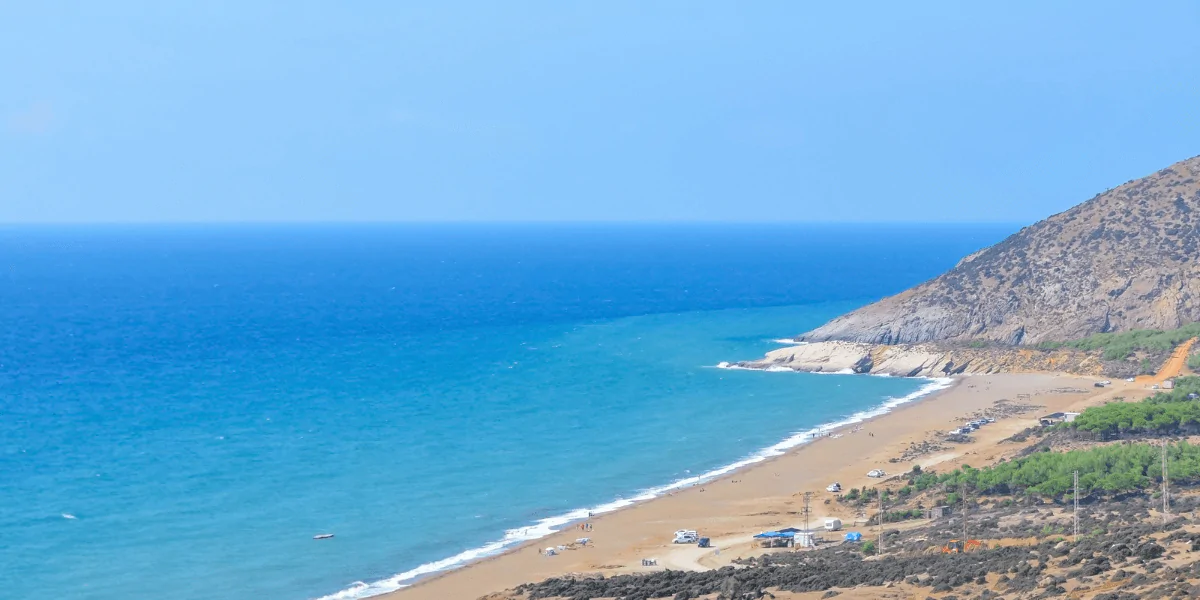 Which Beaches Are Worth A Visit?
The island is full of secret beaches and coves to discover, but we will guide you so that you don't waste too much time. Some preliminary information is necessary:
- Be aware that the wind hits the island from the north, so the calm and safe beaches are in the south of the island.
- Only the aquarium of Yildizköy is swimmable in the north when the sea is calm.
- Only the beaches of Aydinlik and Yuvali offer accommodation on the island.
1 - Aydinlik Beach - Fefaloz Beach
This beach (the most frequented on the island) is more than 1km long, where you can swim in transparent water, sunbathe on fine sand, eat a good toast thanks to the Sardunya cafe on the beach, and is the beach of surfers. In fact, during periods of high winds, the beach is ideal for riding the waves. You will even find a surf training center there.
2 - Laz Bay
This charming little cove in the southwest of the island is just as clean as the previous one, but instead of fine sand you will find pebbles. On the island, you will find food and umbrellas for rent.
3 - Yuvali Beach
This semi-private beach offers an unexpected calm that will charm you. Being managed by the municipality, the beach can be refused if it is already too full. You will find food and umbrellas for rent.
4 - Secret Harbor ( Gizli Liman )
On the southwestern tip of the island, you will find this beautiful secret beach with fine sand, again very clean and well maintained.
5 – Yildizköy
This is the beach not to be missed in Gökçeada. Yildizköy, also called the aquarium of the island for its transparent water and its 200 and more species of protected fish, is the pride of the island. If you go there when the wind is calm, you will have one of the most pleasant moments of your life we assure you. You will find food around the beach.
What To Eat and Where?
- The cicirya (a cake between pizza and pide, filled with cheese and herbs), in Cicirya in the village of Zeytinliköy.
- Fish and raki at Son Vapur or Imroz Poseidon.
- Olive oil products + olives (to be bought at Ada Ruzgari in the city center for example)
- A good breakfast with local products at Mustafa'nin Fayfesi in Kalekoy.
- Honey, to taste and buy in the farm of Gokhan in Bademli