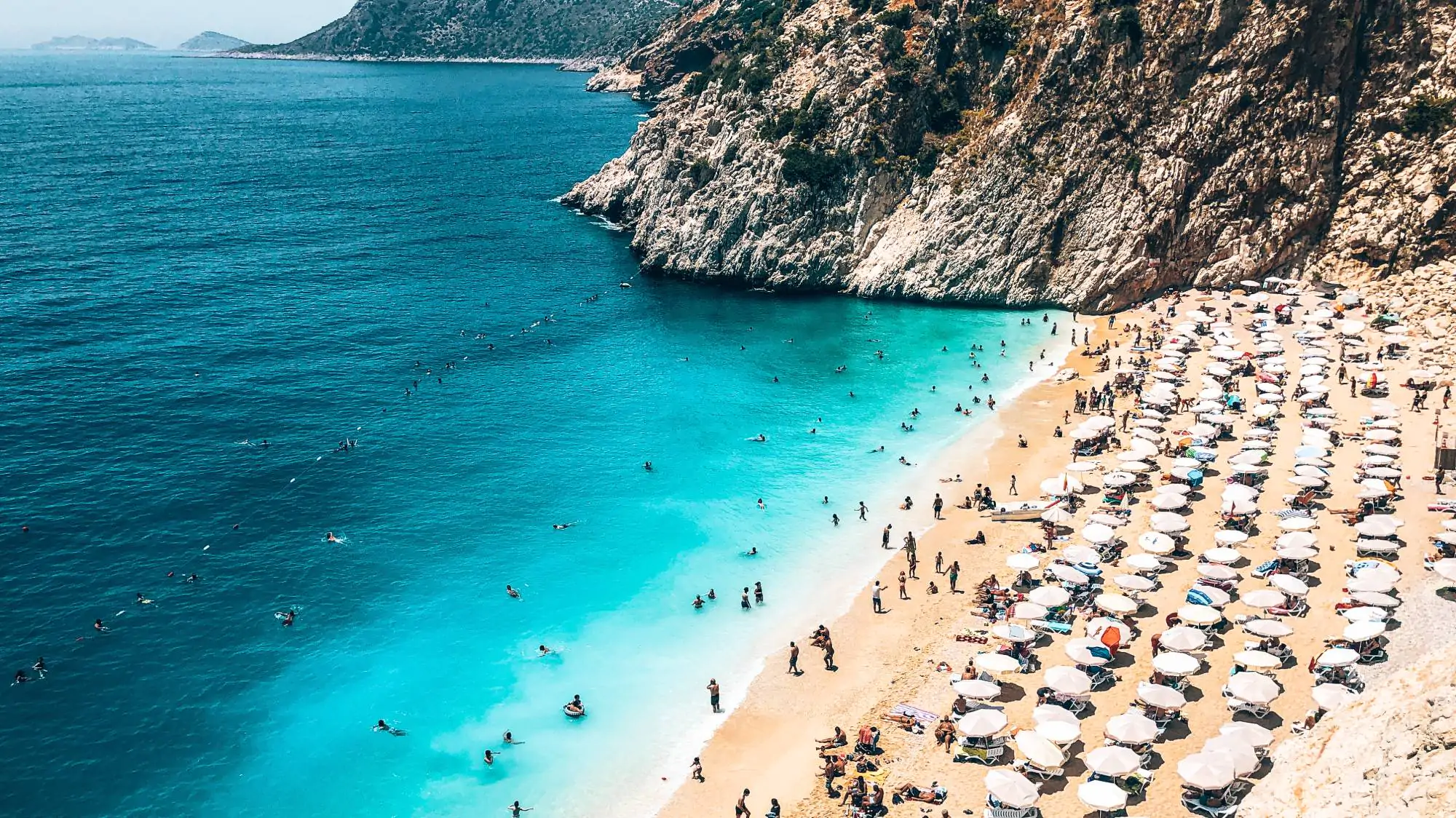 Discover The Pearl of Mediterranean: Kas
We would like to talk about Kas and surroundings, located on Turkey's Mediterranean coast as the center of nature, history and culture gaining importance every passing day.
There are many ruined places of ancient cities known as Istlada, Apollonia, Isinda and Kyaenai along with many, which are not known, around Kas. These are ancient settlements of various sizes. Kas is one of the leading centers of diving tourism in Turkey.
Kas, which is the closest point to Meis Island, has important tourism potential with its historical and natural beauties. There are recently made hotels on the Cukurbag Peninsula extending into the sea as a spit. It is possible to swim in Buyuk Cakıl Beach, Kucuk Cakıl Beach, Akcagerme Beach and Hidayet Bay in Kas. You can also go to Limanagzi beach by boat.
6 most popular caves around Kas, which are 18 km from Kas, are Blue Cave, Asirli Island Sea Cave and Pigeon Cave that is famous for its pigeons.
In Kas, with the increasing tourism activities, nature sports such as trekking, mountaineering and rafting are also developing. Yesilgol and Ucarsu Waterfalls in Gombe are among the nature areas attracting tourists. Gombe, a highland town at an altitude of 1220 and located at the bottom of Akdag, is 65 km away from Kas. Akdag, which is 3015 m high, is the highest peak after Kizlar Sivrisi in the Western Taurus Mountains.
The ancient city of Komba is in Gombe, and the ancient city of Nisa is 13 km away from there. There is also ancient city of Kandyba in Kas. The ancient city of Phellos is located 12 km away from Kas.
Places to Visit in Kas
There are many places to visit in Kas, Kekova and Kalkan region. Our first recommendation on this subject is certainly, at least one day in this region, to join boat tours and experience it. If you want to take a boat tour in Kaş, you can check our page 🔗 Kaş Boat Tour
Kekova Region
You can visit the sunken city of Kekova, which is important in terms of tourism, by a boat from Kas or you can go to Ucagiz and take a trip again by a boat from there. Kekova Region is a hidden paradise created by very special bays and surrounded by Kekova Island and the smaller islets located between Demre and Kas towns in the west of Antalya Province. It is a very special region of ancient Lycian, where history and nature intertwine. The starting point of the tour of the region is Kale Iskelesi Ucagiz. You can leave your vehicle here, go to the castle Simena by boat and overnight there. You can also visit Kekova Island - Sunken City, Tersane Bay, Aquarium Bay with a boat trip and swim in those places. You can use our website to book daily boat tours and weekly cabin rental options for blue tours.
Saklikent Canyon
Saklikent Canyon is an important place for tourism and the number of its visitors is high. It has the source of a branch of Esen Creek. Canyon is approximately 200 km to Antalya, 47 km to Fethiye and 64 km to Kas. There are restaurants and trekking routes in the canyon.
Kaputas Beach
Kaputas Beach, which is a natural site, is located on the road of Kas - Kalkan. This very special natural wonder beach is 20 km from Kas and 10 km from Kalkan. Due to its white, calcareous shoreline and gravel structure, you can watch the great meeting of blue and white in the deepening bay, and let yourself in the water at this special beach.