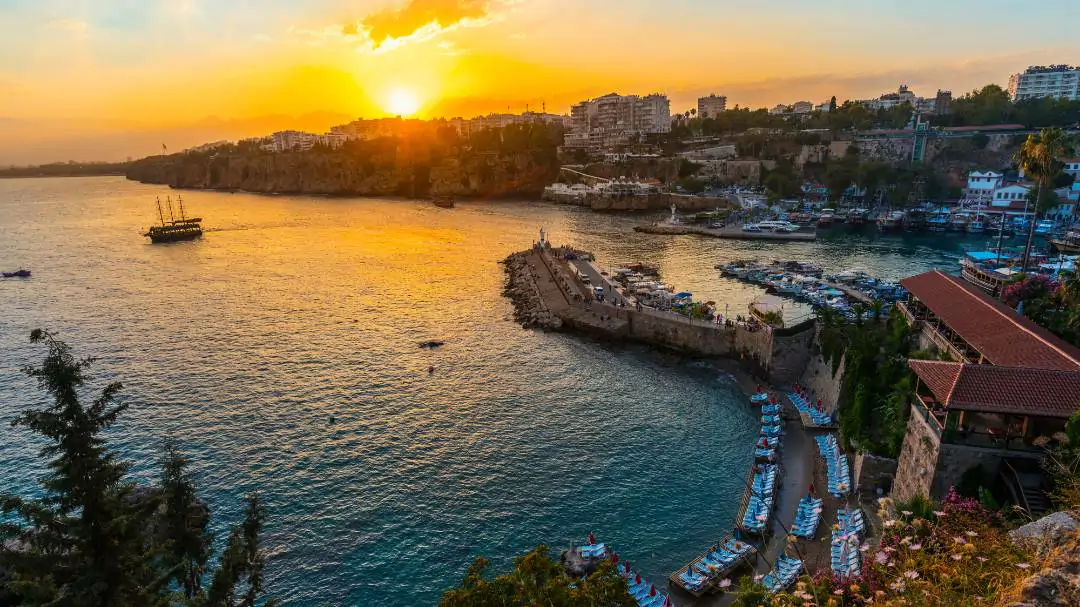 Antalya, Kemer and Boat Tours
About Trips and Swimming Tours - 3rd July 2019
Antalya, located in the south of Turkey is a city which has a border to Mediterranean Sea. The city is also the fifth most crowded city in Turkey. Antalya has a population of 2 million 500 thousand, which exceeds 3 million with the arrival of tourists. There are tourist attractions in the districts along the coast, including the center of Antalya. To say some of these; Belek, Side, Alanya, Kemer, Finike, Tekirova and Kas.
Antalya, which is also famous for orange and banana fruits, contributes not only to the national market but also to foreign trade. Antalya boat trips are frequently preferred in summer months. It is known that people from all walks of life come in all seasons except winter. June, July and August are the most crowded times. You can reach this city by air or by highway. Although the airport is located a little east of the center, it's near to many touristic attractions.
When you come to Antalya, you may have a question as to which holiday region should you go to. For those who love the sea and sunbathing, Side, Alanya region can be preferred. If you want to get a region of the bay and harbor, Kas is a perfect place for you. But if you tell that you want both nature and sea, your destination will be Kemer.
About Kemer
At the beginning of the 1980s, Kemer which was a village developed over time and became an important tourist destination of Antalya. Although it is located 40 kilometers from Antalya city center, you will not need to go anywhere else after coming to Kemer. The district, which has grown and developed over time, has preserved its natural beauty. Although Kemer is located on the coastline, it is located in an area surrounded by forests. Olympos Bey Mountains (Beydaglari) Coast National Park is located on the south side and Beydaglari Coast National Park is on the north side. In Kemer district where there are hotels suitable for all budgets, those who want to experience 5-star comfort are also considered. Apart from 5 star hotels, 2, 3 or 4 star hotels are also available. So whatever your budget, you can come and stay comfortably. Nature lovers show more interest in Kemer, where green and blue together. On one side is the forest area and on the side is the deep blue sea. Here you can also join Kemer boat tours.
Boat tours are a great advantage for people looking for diversity. You can participate in many boat trips such as daily, 3 days or 7 days. It is also useful to say that daily tours start between 50 and 100 liras. With the increase in the number of days, prices are rising at the same rate. Whether you are on a daily or multiple day boat trip, the same facilities are provided. You can also get detailed information on www.tekneveyat.com. You can ask questions to experienced friends through the site. Do not spend your holiday without a boat tour.
There are also different activities such as diving tours and climbing Olympos Rock in Kemer. Sports lovers in Kemer, where you can fully enjoy the holiday. You can enjoy nature by hiking in Olympos forest.
Daily Boat Tours
Daily boat trips start early in the day. You can enjoy a boat trip until the evening hours. Boat tours start from April until the last days of September. It is an indispensable holidaymaker in Antalya which has the opportunity to make a boat tour about 6 months of the year. Many local and foreign tourists who want to go to open seas and visit different bays prefer boat tours. It makes you feel comfortable to have the facilities you can meet your needs on boats. In addition, there are various private rental options. If you request wooden private boat, latest models are rented.
Antalya is a perfect place for you to beautify your summer holiday with a boat trip. Wherever you have a holiday in this city along the Mediterranean coastline, do not miss the boat trips. Enjoy your holiday in Antalya this year in a different way.