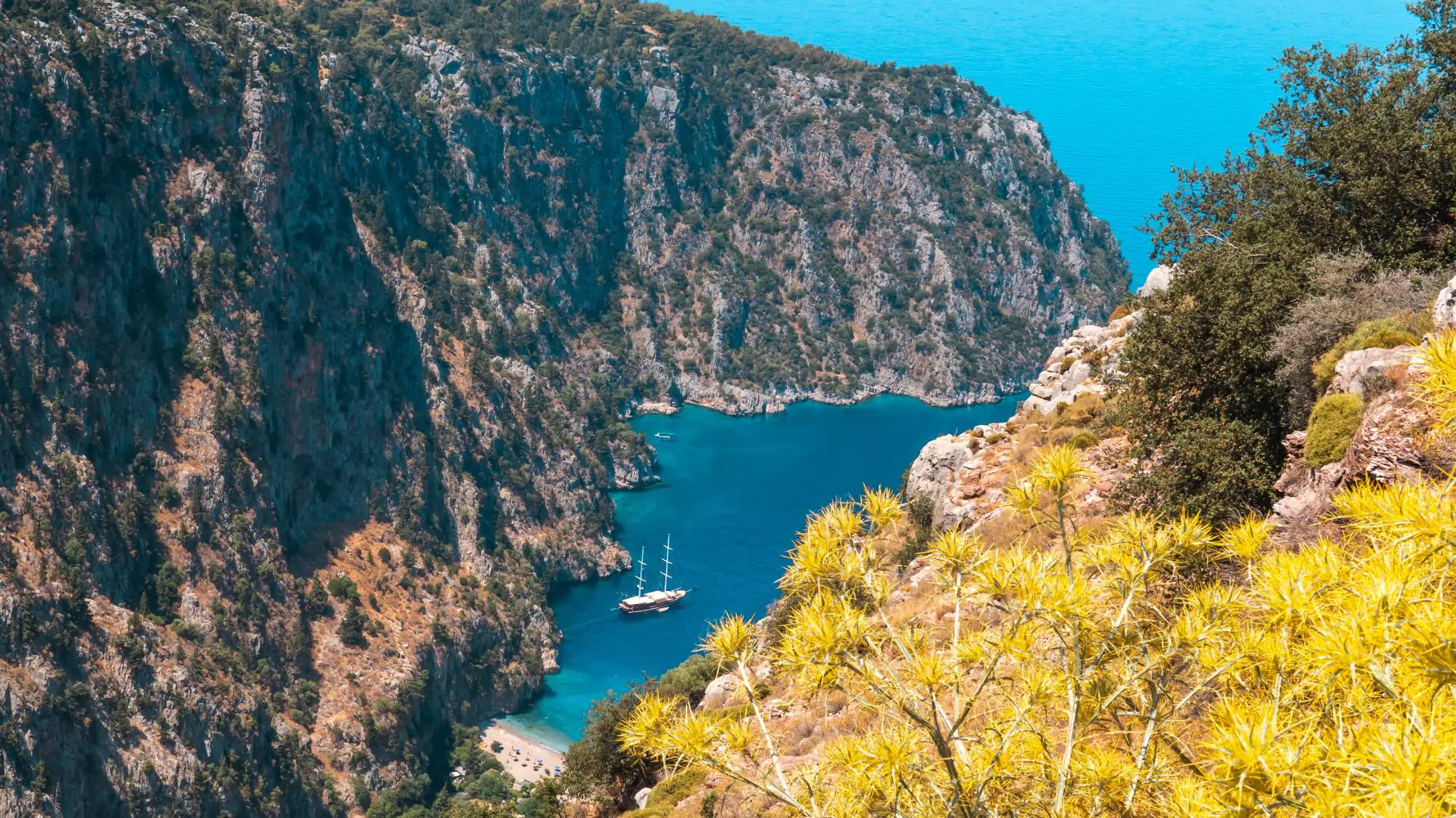 Boat Charter and Daily Boat Tours in Oludeniz
Oludeniz is a district of Fethiye of Mugla province. Oludeniz Beach was chosen as the most beautiful beach in the world in 2006 with eighty-two percent.
You can easily rent a boat in Fethiye and add Oludeniz as a blue tour route. During the blue tour, you can explore the Oludeniz and Fethiye area by air and underwater by participating in sports such as water skiing, jet-ski, paragliding and diving. For diving courses, you can get information from diving agencies in Belcekiz or ask your captain for advice. An excursion boat tour option will be a good choice for short trips. You can join excursion boat tours to Oludeniz and its bays from Oludeniz coast or Fethiye center. For advertisements and tours, check out our website now!
The town is well developed in terms of tourism. In the Lycians, the land of light and sun was known as the "Distant Land" in the Middle Ages, and is found in the Teke Peninsula in the southwest of Anatolia. This is one of the lagoon formations in Turkey.
Oludeniz is a stagnant lake, just like mentioned in its name. While Belcegiz coasts fight with the waves on the most stormy days, in Oludeniz only flocks occur.
Oludeniz, however, seems to be stagnant, renews itself almost every day for three unseen reasons. The first of these, the intensive spring water outlets in Oludeniz, create a discharge from the inside to the open sea. Secondly, it is a continuous circulation in and out of the open sea due to the salt difference created by these spring waters. Third, with a tidal effect, the sea rises and descends by half a meter every two to three days. This makes large amounts of sea water go in and out.
Another place you should visit in Fethiye is the Butterfly Valley. This region is named so because of 80 different species of butterflies surrounding mountainous and wooded areas. You must see this magnificent valley during the blue tour in Fethiye.
Bays Which Are Close to Oludeniz
Aquarium Bay
It is a very convenient bay for scuba diving and snorkeling. Because of its lush nature, turquoise sea and sea creatures, which are worth to see, you can add this bay to your blue tour route.
Blue Cave
One of the stops you can add to your route during the blue tour of Fethiye is the Blue Cave. Although the sea is quite deep, it is so clear that you can see its bottom.
Butterfly Valley
The valley, which is reached only by sea, has been chosen by WWF as one of the "100 Forest Hot Spot of Europe" due to its rich biodiversity. In addition, Butterfly Valley was declared as a 1st degree natural site on February 8, 1995 and closed to all kinds of construction.