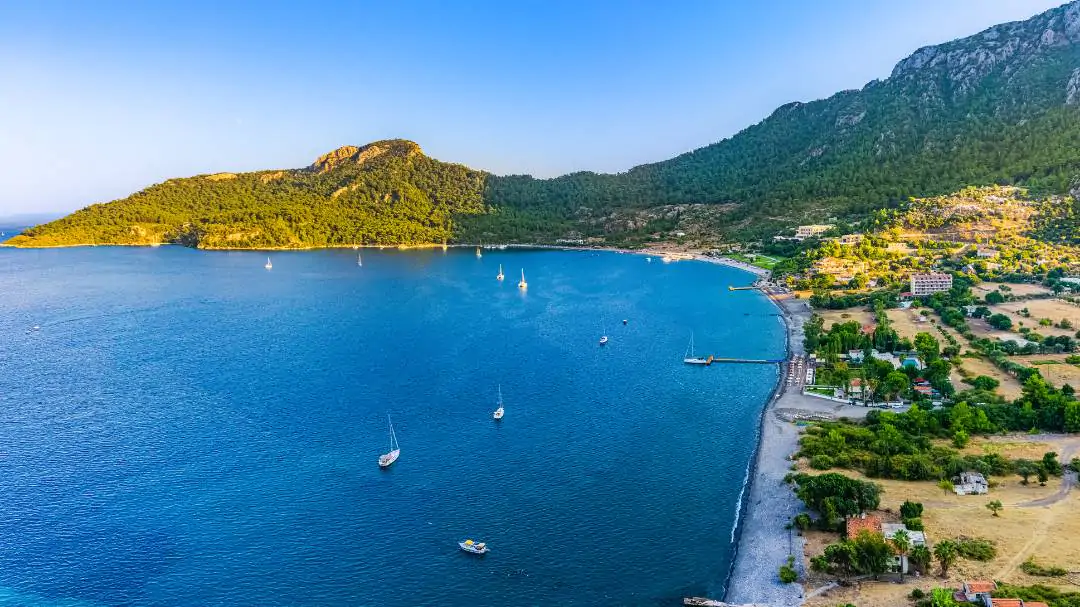 A Unique Experience, Kumlubuk Bay
Kumlubuk Bay, which is 24 kilometers away from Muğla Marmaris, has survived untouched until today. It also offers many activities with its sandy beach and clean sea. Here you can experience different and new excitements with Jet-ski, banana, and ringo. There are restaurants where you can try the light and healthy meals of Marmaris cuisine in Kumlubuk. You can also find places to eat the most outstanding dishes of Turkish cuisine as an alternative in Kumlubuk, where you will find a variety of dishes made with fresh vegetables, olive oil and fish.
How to go to Kumlubuk?
It is possible to go to Kumlubuk by land. Another option would be a boat tour. You can reach Kumlubuk with boats moving from Turunc, Icmeler and Marmaris.
What to do in Kumlubuk?
The most beautiful thing to do in Kumlubuk is undoubtedly traveling around the coasts of Kumlubuk and back by renting a boat or a yacht. On the gulet rental options with cabins, this region, among the blue cruise routes, is the most valuable region of Marmaris Turunc section.
The cave, encountered during the hike from Kumlubuk coast to the southeast, astonishes everyone. This cave is thought to have been the scene of the first settlement 5 thousand years ago. Its entrance is around 4 meters. Since it was newly discovered, no scientific research has been conducted yet. Just like what happened with the Cennet Adasi cave. Spare your morning or afternoon walk routine for the ancient city of Amos in Kumlubuk or Turunc. Amos, which you can reach in 1 hour from Turunc and from Kumlubuk in half an hour, was one of the important cities of antiquity, but there is not much left to our day. From the narrow and long hill known as Hisarburnu, with a small pebbly bay on one side and the coast of Kumlubuk on the other side, you can see the theater and the city walls.
The ancient city of Amos lies between Kumlubuk and Turunc. In the ancient city, there are monuments, sculptures, cisterns and the ruins of the theater. It is located 24 kilometers from the center of Marmaris and there is a distance of 2 kilometers from Turunc. You can add it to your list of "Places to Visit in Kumlubuk", divert your route to Amos, and have a historical trip. The place where the ancient city is located also has a view over Amos Bay.
Kumlubuk holiday resort is located close to Turunc Bay. There is a distance of about 5 kilometers between them. You can have fun in the cafes and restaurants lined up on Turunc's long coastline.
Kumlubük is famous for its beautiful beaches alongside with its fish restaurants. You can taste unique flavors such as olive oil okra, stuffed mushroom, cowpea, caper sprouts, taratored cowpea salad, radish salad, dandelion, sevket-i bostan, john dory ravioli and roasted arapsaci plant in Kumlubük Bay where the best seafood dishes are cooked and served.