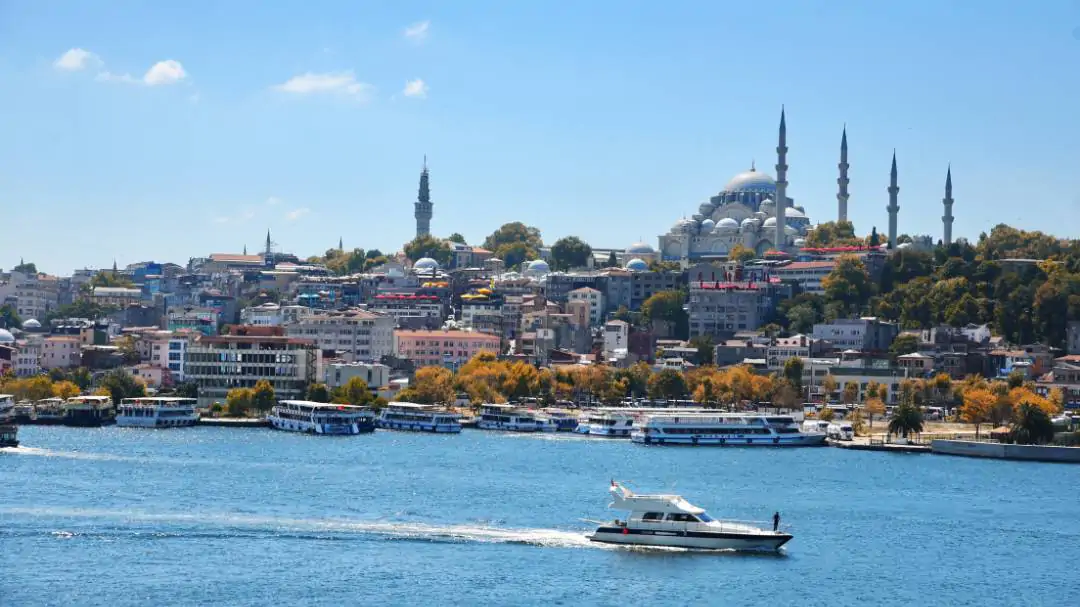 Rental Luxury Yachts on the Bosphorus
We all want to escape from the tiring stress of daily life's routines by experiencing chilly waters and exquisite air of Bosphorus and admiring beautiful sunset of Istanbul, Turkey. Although, until today this idea has only been just a dream, from now on it's happening! We offer you the discovery of Bosphorus's delicious air, soft waves of the sea and all of the historical coastline of Istanbul with Rental Luxury Yachts on the Bosphorus service.
Renting a luxury yacht in the Bosphorus has never been easier. Now you can also benefit from this opportunity of renting yachts in the Bosphorus, to crown your dream fun birthday parties, extremely elegant and romantic anniversaries, marriage proposals and your other special occasions.
How Much Is It To Rent a Luxury Yacht on the Bosphorus?
It is our dream to get away from daily routines' stress and exhausting atmosphere by releasing ourselves into cool waters, soft breeze and a wonderful trip with İstanbul view. Even though the price seems to be fairly high to rent a yacht in the Bosphorus, in fact with a suitable payment methods and prices, you can easily access any rental yacht services anytime. Average rental yacht prices tend to vary between 500 – 2.000 TL, depending on the type of yacht, context of the services, menu and extras. With these convenient conditions, It has never been easier to Rent a luxury yacht on the Bosphorus.
Can I Rent the Yacht Anytime I Want?
In delicious Bosphorus located at Istanbul, Turkey, for a yacht pleasure never to leave your mind, you can rent anytime of the day and any model of yachts you want. According to availability, outside the cleaning and maintenance hours; every yacht you hired will be prepared and presented to you. Whether it's a sunrise, a sunset, or a party full of fun and adventures to crown your middays, you can rent and enjoy any yacht at any time of the day.
What are the advantages to Rent a Luxury Yacht on the Bosphorus?
You can rent a luxury yacht anytime of the day and reward yourself with getting away from the daily stress of life and feeling the cool wind of the Bosphorus. Renting a luxury yacht on the Bosphorus is one of quite advantageous and privilegeous services. These advantages are:
Breakfast with a beautiful vista of Istanbul, dinner, anniversary and many other organizations:
Delightful Bosphorus joy with sunrise,
Getting to know historical shoreline, palaces and bays of İstanbul,
Parties, swimming and more fun activities in chilly waters of Bosphorus,
Special evening activites such as fasıl, iftar, graduation ceremonies,
Sunset with a beautiful view,
Crowning special activities such as anniversaries, marriage proposals, job celebrations.
With the Rental luxury yacht services, you too can render your special moments unforgettable and take a snapshot of one-of-a-kind view of İstanbul, into your memories.
Are all expenses included in the price?
For customers who want to benefit from rental yachts on the Bosphorus to live unique memories and special days, the price includes captain, fuel, menu and other yacht-related expenses. All the services that were presented are price included and only extras you want to buy will be added to fee.
Can I See My Rental Luxury Yacht Beforehand?
Of course! According to availability, with an appointment from our office; you can very well have a stroll in your desired yacht and getting to know it while planning your dream special occassions.
What does this tour include?
If you desire to smell the chilly air of the Bosphorus and crown your special activites with never-to-be-forgotten memories, rental luxury yachts on the Bosphorus is perfect for you! This tour includes Beşiktaş, Sarıyer and Yeniköy in Istanbul Europian Side; from Beykoz to Uskudar, all of the Bosphorus with historical palaces, Rumeli Fortress and many other antique structures and bays. Thanks to Rental Luxury Yachts on the Bosphorus, we immortalize unique and exquisite taste of Bosphorus with almost all of historical residentials, coastlines. You can make all the special days including birthdays, anniversaries, marriage proposals, iftar dinners, graduation dinners, fasıl etc. in your mind immortal and lasting memories, with the privilege of Tekneveyat!