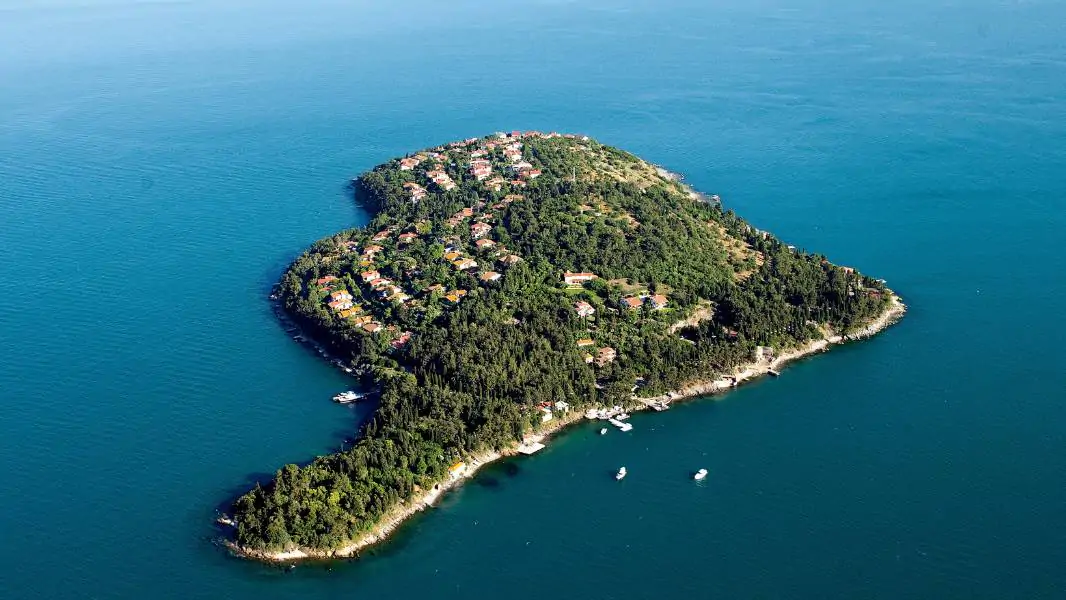 10 Beautiful Beaches In Istanbul
Although the city of Istanbul has an imposing Bosporus that bisects it, it is still quite difficult to swim in the city center.
Knowing that this is something that is much sought after by visitors to Istanbul, here is my list of 10 beaches near Istanbul, from the closest to the farthest, that will allow you to swim during the summer season, between June and September.
Good To Know: The free beaches or at less than 100 TL, close to Istanbul, are not very recommendable and for the most part should be avoided, especially on weekends and holidays (!) as they are not only crowded but also populated by people who may be ill-intentioned or disturbing.
In the center of Istanbul
1- Altinkum Women Beach Sariyer & Riva Elmasburnu
Entrance fee for Sariyer : 200 TL
Riva entrance fee: 130 TL for the weekend, 110 TL for the week + 40 TL for the sun lounger and parasol equipment
As their name indicates, these two beaches are reserved only for women and children.
They are family beaches of fine sand, which look directly into the Bosporus and therefore are among the few to be located in the city.
The first, Sariyer Women (Kadinlar) Plaji, is located on the European side, north of the Sariyer district. The second, Riva Elmasburnu Plaji, is located north of the Asian side, in Riva.
On these beaches, you can bring your own food, although a café serves drinks and snacks. You can get there by "service", that is to say special shuttles that pass through many points in life in Asia as in Europe or with a car.
You must make a reservation on their website before going
Private Yacht Cruise on The Bosphorus in Istanbul
Traveling on the Bosphorus, which separates Europe from Asia. The Bosphorus is the first image that comes to mind when you mention Istanbul. How about exploring and traveling through this lovely city from the sea? The finest way to see this mysterious strait's beauties is on a private yacht excursion.
You will explore the most picturesque coasts, get up close to the most stunning homes, and have a lovely voyage between two bridges.
Our yacht renting service in the Bosphorus is very simple to use. Our yachts are outfitted with the most recent technology and are available for rental at any time of day. Our opulent ships and knowledgeable staff are available to you to make the big day an unforgettable one.
Details : Bosphorus Cruise On Private Yacht
The beaches of Kylios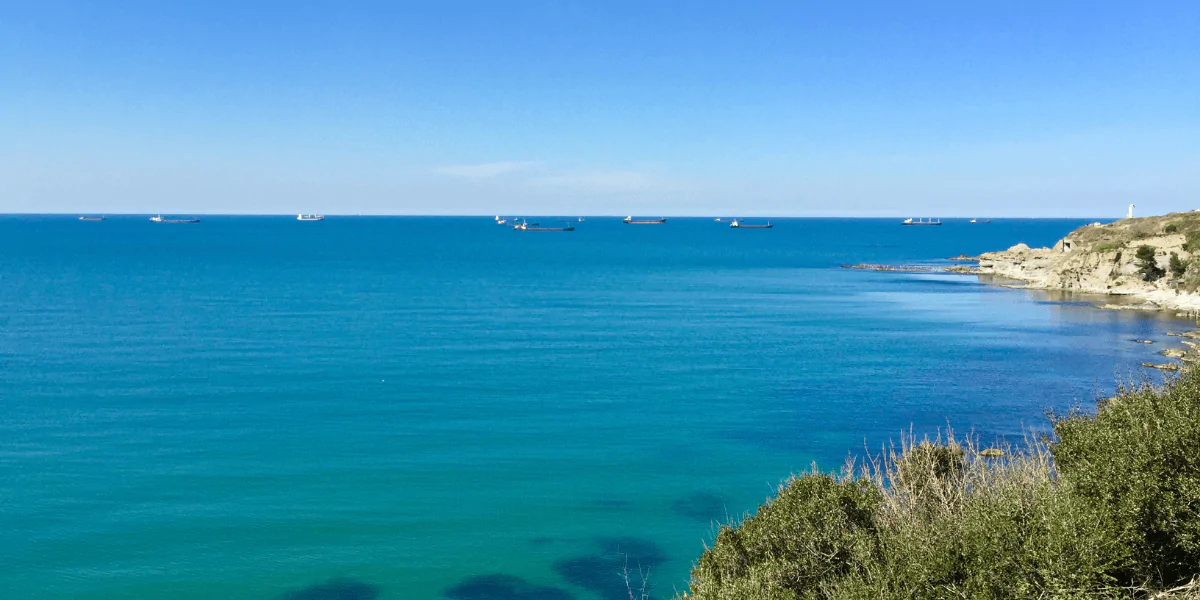 Location: 55 km from Taksim Square, Kilyos is a village in the north of Istanbul attached to the Sariyer district, very famous for its beautiful beaches close to the city center. When you arrive at the center of the village, all the beaches are along the sea to the west, until the village of Kisirkaya except for the Uzunya Beach which is to the east after the cliffs.
Is it worth it? We strongly recommend you to go to Kilyos to see some nature, huge sandy beaches and to swim in the black sea. It's a great experience in a very pretty azure blue setting. However, be prepared to see crowds of istanbulites coming to cool off, especially in summer...
Prices: The entrance to the private beaches of Kilyos (called "Beach", as opposed to "Halk Plaji" which means public beach) is usually not free and the prices are quite high, whether it is the entrance or all the food services on site.
Food: Generally, they refuse all food, so plan a budget because any form of restoration will be done in their restaurant where they take advantage to have quite high prices (5 TL the bottle of water of 50cl for example).
How to get to Kilyos? Simply by car if you have one, or via shuttles. Indeed, each beach has its own shuttle bus that leaves from Taksim and other important stops in the city center in the morning and returns to the city in the evening at different times. The best thing to do is to check the social networks and websites of the beaches in question which are well informed or simply call.
Here are the beaches of Kiloys that we recommend:
2. Uzunya Beach
This is a beautiful beach, very well maintained, clean and not too crowded. Ideal for families and groups of friends.
3. Tirmata Beach
A beach that we do not present anymore, this magnificent beach is very pleasant, especially during the week when there are not many people.
It welcomes young and old alike. If you wish to go there regularly, the club card is advantageous. Their fish restaurant is very pleasant.
Adresse Tatlı Su Cad. No:1, Kilyos, Sarıyer
Website internet: www.tirmata.com
4. Gumusdere Beach
Not to be confused with the same beach but called "Halk" (which means public), which is just before, less expensive but often crowded and badly frequented in busy periods.
Gumusdere Beach is a huge sandy beach, less known than the others but also quieter and more local.
Address: Gümüşdere Mahallesi, Sarıyer
Private Yacht Charters and Rentals in Istanbul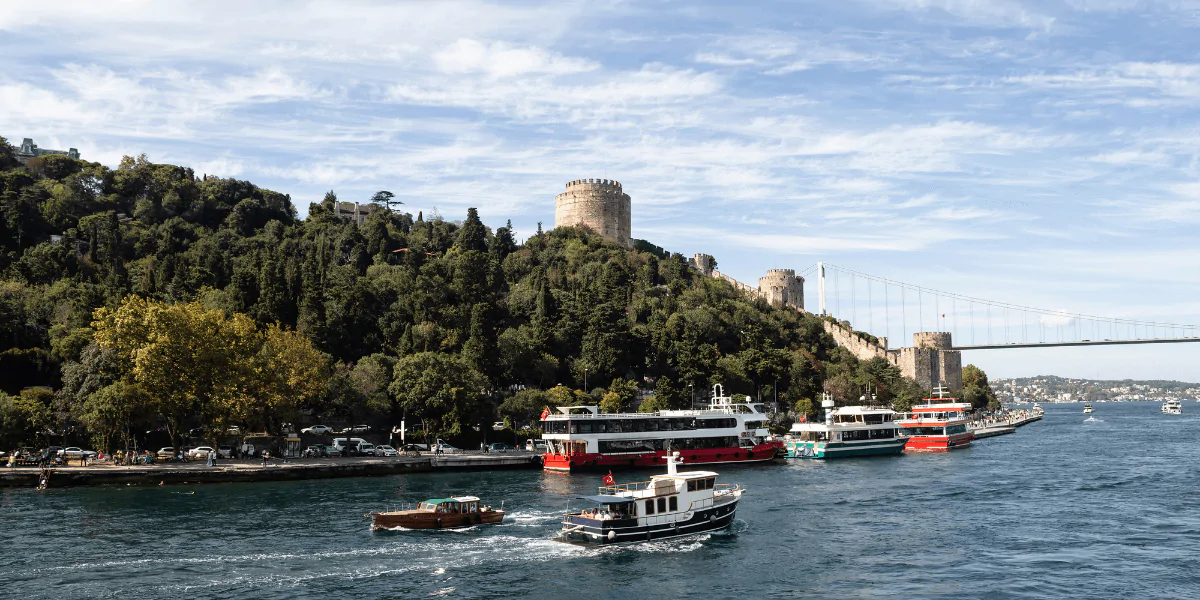 With our well equipped luxury boats, yachts, and bareboats, we can accommodate all of your needs for marriage proposals, weddings, bachelorette parties, and Bosphorus excursions with our Istanbul boat and private yacht charter service. We give you a day you are unlikely to forget, along with a breathtaking view of the Bosphorus. With our simple reservation and online payment options, you can take in the Bosphorus.
With Istanbul boat and yacht charter tours, day or night, with or without meals, you'll have a unique and surreal experience! View the Bosphorus' deep blue seas from a super-luxury yacht in the middle of the ocean. On your special days, at cocktail parties, or at any gatherings, sip your beverage in the historic Marmara Sea, where the continents of Asia and Europe meet.
Details : Bosphorus Yacht Tour
The Beaches of Sile and Agva
The small seaside villages of Sile and Agva are all north of Istanbul, on the Asian side, opposite Kilyos.
These villages are very popular and frequented between May and October by istanbulites who want to get some fresh air on the weekend. This is the reason why their access is very difficult by vehicle (sometimes traffic jams of 3/4h)...
Good to know: We strongly advise you to go there only during the week. These villages are also very charming to visit in winter period to isolate yourself... They propose very good fish restaurants.
Two popular hotels in Sile are:
Fener Motel, cheap, close to the beach, great service + pool!
Phellos Suites, a slightly higher budget for a luxury hotel, very well located and a nice pool...
Book in advance or you may not find a place...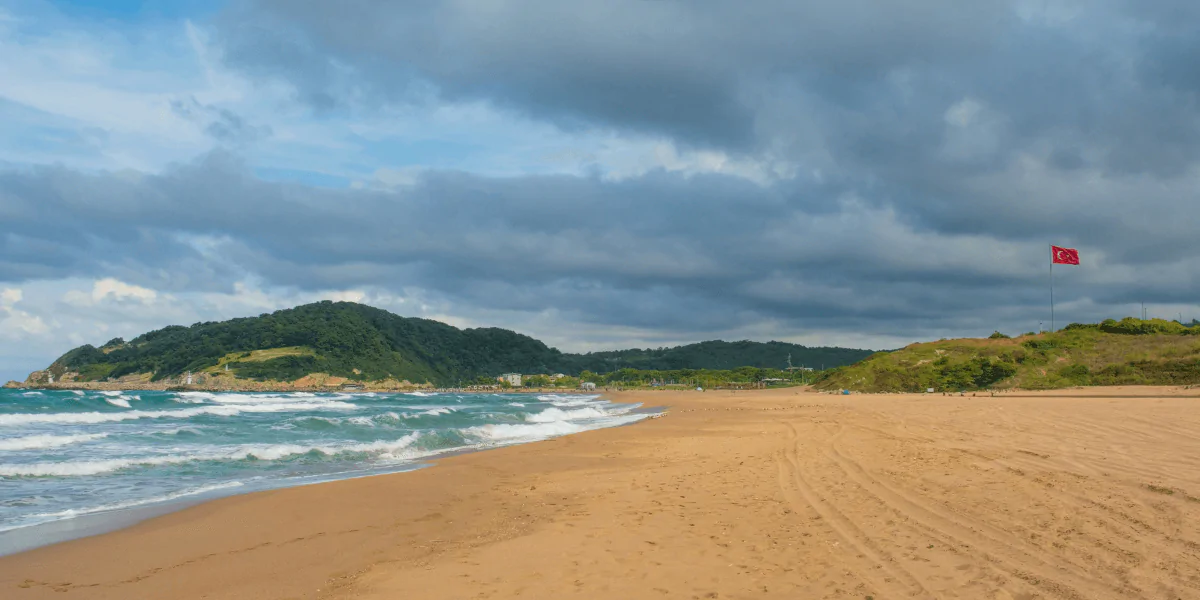 5. Aqua Beach
The most famous and frequented paying beach in the area is Aqua Beach, not to be confused with Uzunkum Plaji, just next door, which is free but badly maintained and crowded...
Aqua Beach is a large sandy beach with umbrellas and deckchairs available. The quality of the water and the crowds are good except on weekends and holidays when you will be among a huge crowd and will not be able to enjoy your lazy day.
Cafes and snacks available. Fusha Beach not far away, is also not bad.
Adress : Balibey Mahallesi Halay Sokak, Aglayan Kaya Cd, Sile
A little further from Sile, you will find Agva, a very charming village which offers a picturesque atmosphere and nice hotels to spend a weekend in love...
6. Kilimli Bay
The beaches to try are more discreet and secret. We suggest you the Kilimli cove to take a dip in an idyllic place in all privacy (we do not guarantee privacy on weekends).
The pebble beach is of course free and open to all. Campers can also pitch their tents.
A restaurant of the same name offers very good dishes (fish and meat) on a terrace with an incredible view of the creek.
Adress: Bucaklı Mahallesi, 34980 Sile
7. Suayipli Beach
Also, in Agva, in the depths of Istanbul, you will find a small and absolutely beautiful sandy beach/creek that has nothing to envy to the beaches of Bodrum. The beach is free and you can rent chairs and umbrellas for about 30 TL.
Not far away, you can also find the Karacay Koy cove which is really nice but we don't know it personally to recommend it.
Adress: Şuaypli Village Beach - Kurfallı Mahallesi, 34980 Sile
Turkey Istanbul Yacht Charters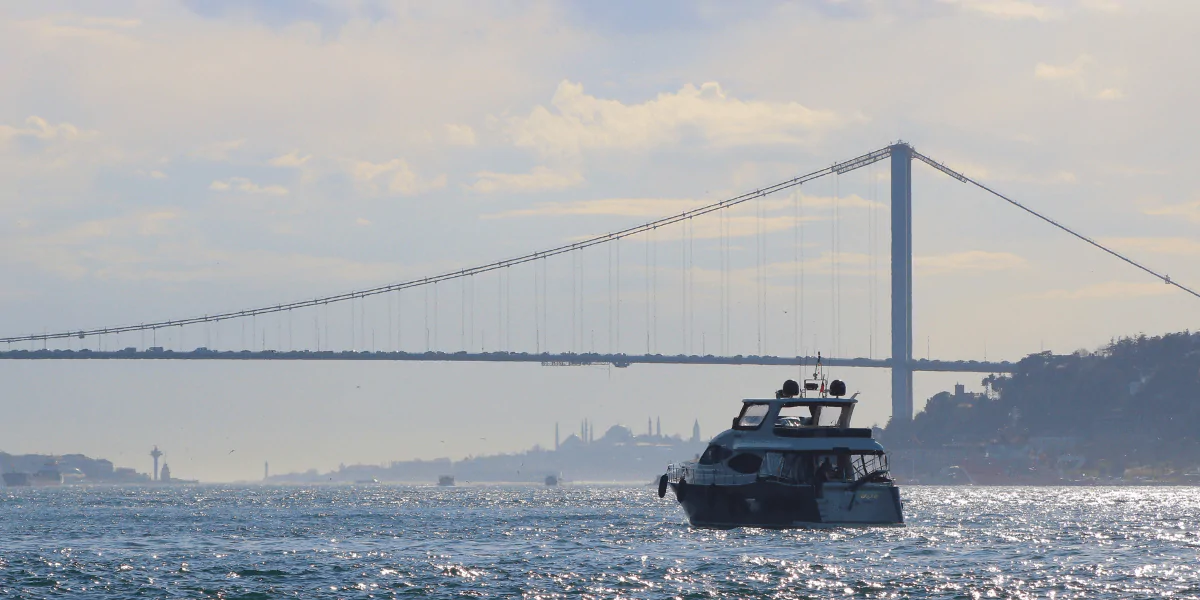 Nothing is more stunning or thrilling than an event on the sea, especially when you're on the Bosphorus, which sits directly between Europe and Asia. Please get in touch with us by phone or e-mail to inquire about holding your private party on a luxury yacht in the Bosphorus for any unique event that calls for an exceptional location. We can assist you in organizing your event at costs you can afford. Allow our event coordinators to handle all of your planning needs, or ask us to provide you with the numerous catering, entertainment, and décor alternatives. Discover how simple and inexpensive a charter cruise can be.
The beaches of the Princes' Islands
The beaches of the Princes' Islands of Istanbul are the ones which were the closest place to take a dip without traffic jams. So here are the beaches you can enjoy the most, most of the beaches of the Princes' Islands have transparent (harmless) jellyfish.
For your stay in Istanbul, we strongly recommend you to stay a few days on one of them to enjoy a wonderfully flowery and pleasant environment, without cars or crowds (on weekdays!).
Here are the hotels that we recommend on the Princes' Islands:
Buyukada (the big island) : The famous Ada Palas Hotel is sublime, really. If your budget is smaller, you can also stay at the Masal Hotel, also very charming but less luxurious.
Heybeliada (the second big island): The Isola Guesthouse is an adorable typical house ideal to welcome you for a few days...
8. Ada Beach in Heybeliada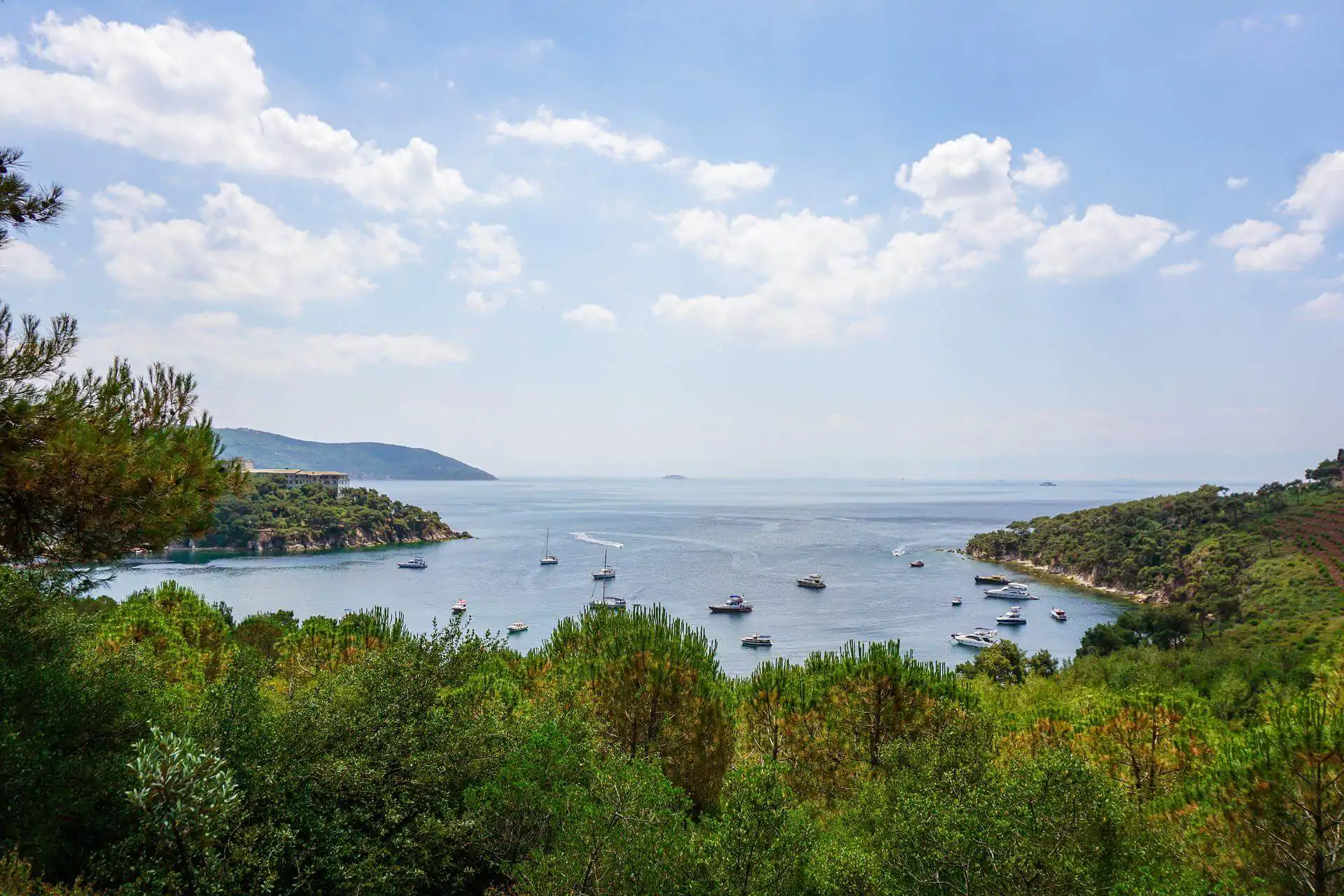 This beach can be very pleasant if it is moderately full.
Avoid at all costs weekends and holidays. The sanitary facilities are fair but it is nice to sip a cocktail on a beach so close to Istanbul that sometimes you forget the details.
Adress: Çamlık Mevkii, 34973 Adalar
Website: www.adabeachclub.com
9. Blue Beach in Büyükada
A nice little beach very frequented by families, with loud (and commercial) music and even sometimes some improvised dancing.
You will really like it despite the fact that it's not a conventional beach with sand etc. but rather a terrace type platform with access to the sea (it's done a lot in Turkey).
Address: Büyükada
10. Iskele Sahili in Kinaliada
Much less visited than the others, Kinaliada island can be a good option to avoid the big crowds and swim in peace.
You should know that the islands of the princes all have developed beaches or pebble beaches (like this one), not natural fine sand like in Kilyos or Sile...
Here, you have 2 options.
If you are in June or September, during the week, I highly recommend the pebble beach of the pier, very nice and not very expensive 20 TL. It is very nice and clean although a bit narrow.
If you are in the middle of July or August, prefer the beach of Teos, Boncuk plaji in Turkish, in the south of the island. It is private, well maintained and paying.
The Best Cruise for a Relaxing Day Trip to the Princes' Islands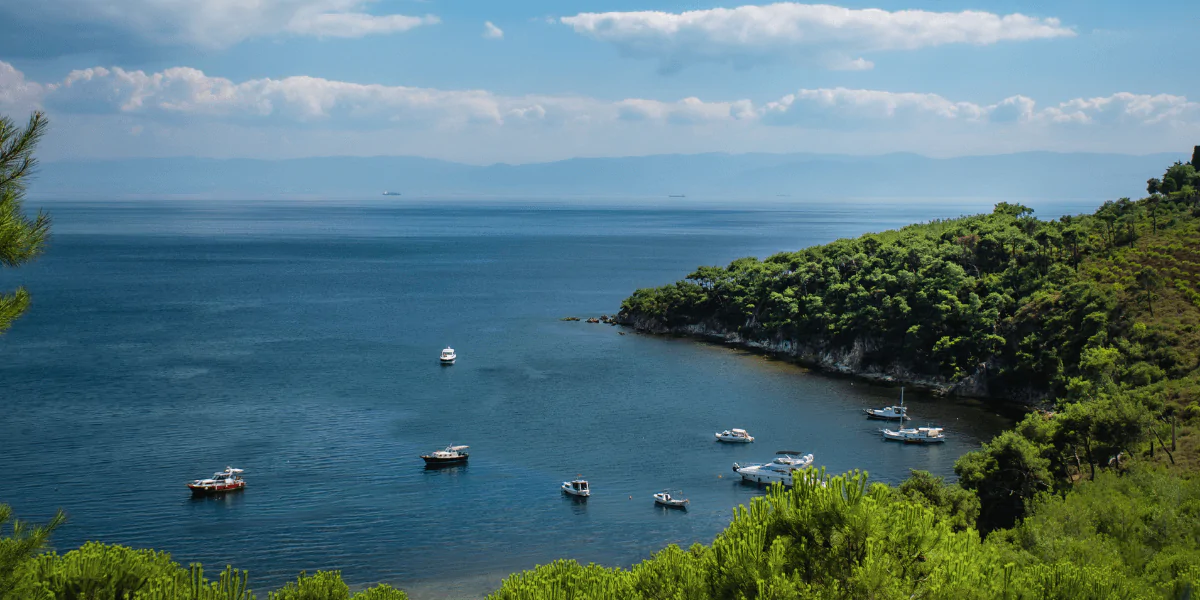 The Princes' Islands in Istanbul seem like something out of a fairy tale to tourists. Imagine sailing a private yacht to these distinctive islands. With the help of our Prince Islands cruise service, you may do that conveniently moving forward. Additionally, you get to choose how long you wish to spend in each place. Additionally, you can take optional swimming breaks while exploring bays that are accessible only by boat.
What to Expect?
You can take advantage of an exclusive sightseeing opportunity along the Princes Islands with a private luxury yacht.
From the spacious upper fly-bridge, you may enjoy the 360-degree views of the stunning surroundings or unwind in comfort on the sun deck or in one of the interior or outdoor lounges.
How much to charter a yacht in Istanbul?
Prices may vary during peak season or low season. Prices may also increase for special events or personalized services. To get the most accurate information, we recommend that you request detailed information during the reservation.
Why Tekne ve Yat?
Tekneveyat is a reliable marketplace that brings together the best boat and yacht operators in Istanbul, Turkey, and the Mediterranean. With its business partners who have adopted the understanding of superior quality and service, it meets your requests such as Bosphorus tour in Istanbul, yacht tour, birthday party, bachelorette party, dinner, and breakfast yacht charter. Thanks to Boat and Yacht's secure payment and fast booking options, it is easier than ever to charter a boat and yacht in Istanbul.
Tekneveyat is TÜRSAB A Group Travel Agency and has Ship Agency Certificate. It guarantees you a hassle-free experience with its customer representatives serving 24/7.