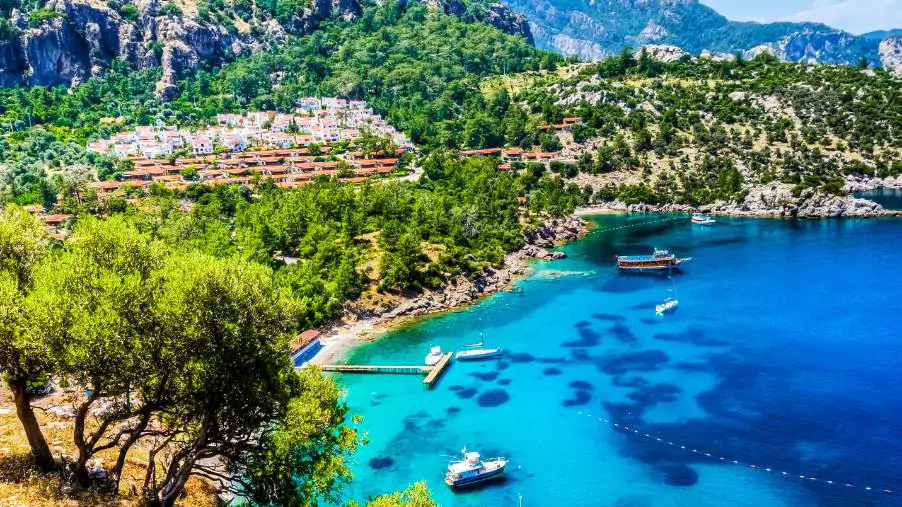 Marmaris Boat Trips and Boat Rentals
Marmaris, whose old name is Physkos, has historical ruins of various cultures in the city as it was home to many civilizations. On the other hand, the nature also contains every shade of green. Although, the most important part of Marmaris to be articulated is its beautiful bays and islands. For this reason, either renting a boat and enjoying a blue tour, or daily boat and yacht tours would be one of the best options to explore Marmaris.
Transportation to Marmaris
The closest airport to Marmaris is Dalaman Airport. The distance between the airport and Marmaris is 88 km.
Marmaris Boat Charter
In Marmaris, gulet type boat rental is more preferred. You can explore the magnificent bays of Marmaris by renting a gulet. If you are not too many people, you can also choose sailing boats or catamarans or motor yachts.
Boat rental prices vary according to the type of boat you prefer and the number of people. Sailboat or catamaran boats are €45- €70 per person per day. Also, gulet type boats are in the range of €70- €100. In the cabin rental options, if you prefer a full board accommodation including morning, noon and evening meals and a private bathroom, the prices vary between €250-1000 depending on the boat and the season.
Bays of Marmaris
For a lush nature, a blue sea and an unforgettable holiday, you can discover Marmaris's unique bays with the option of renting a boat.
Abdi Reis Bay
Abdi Reis Bay, located at the exit of Marmaris, is a preferred bay for divers. You can take part in activities or take diving lessons, as the diving facilities are suitable there. Located 24 kilometers from Marmaris, Abdi Reis Bay is surrounded by forest and sea.
Amos Bay
Amos, a small and magnificent bay, has a long beach and a turquoise sea. The most beautiful activity in this magnificent bay is to watch the sunrise and sunset.
Bordubet Bay
Bordubet Bay, which is a magnificent beauty, is located in the part of Datca Peninsula facing Gokova Bay.
Selimiye Bay
Selimiye, a bay where boats can take shelter in bad weather, is one of the popular stops of blue tour boats. It is a 45-minute drive from Marmaris.
Gebekse Bay
Gebekse Bay is the mooring port of yachts. This beatiful bay, where land transportation is not possible, is famous for its turquoise sea.
Ciftlik Bay
The area is suitable for underwater diving. Snorkeling can open the doors of the magnificent world of underwater.
Kumlubuk Bay
There are places where you can experience water sports such as jetski, banana and ringo. In addition, you can watch the underwater by snorkeling.
Cleopatra Beach – Sedir Island
According to legend, Cleopatra swam here. The region is known for its yellow sands brought here from North Africa. The same kind of sand can be found only in Egypt.
Kizkumu Beach
Kizkumu, an important yacht mooring region of Hisaronu Bay, impresses its visitors with its nature and the beauty of its sea. When you visit Kizkumu Beach, you can see people walking in the sea.
Son Blog Yazıları
You might be interested